Ford Truck Repair
Ford trucks are known to be strong and resilient. They last long, even when used heavily for intense hauling or towing work. However, just like other vehicles, your Ford truck cannot perform at optimal capacity without regular Ford Truck Repair. It is important to devotedly follow the mileage maintenance intervals that have been put down in your Ford truck's owner's manual. You can get top-quality repair services at Sound Ford. We at Sound Ford are a well-reputed Ford dealer that has perfected its truck services over several years. Our auto technicians are ASE-certified and exceedingly experienced in repairing Ford trucks.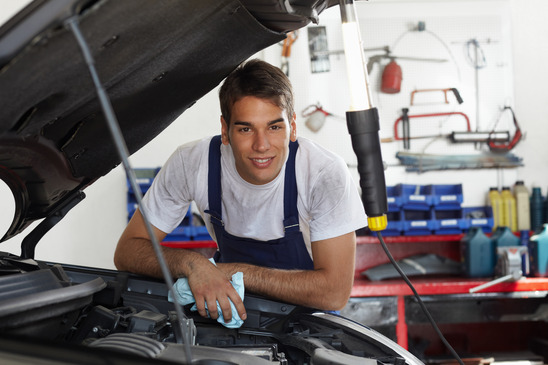 We are your local area experts on Ford truck repair.
Diesel Engine Repair

Diesel engines are quite the departure from gas engines. They feature fewer electronic components and modules, and they are also characterized by something that is unique to them – direct fuel injection. We at Sound Ford have auto technicians that are specialists in repairing diesel engines, specifically Ford Power Stroke Diesel engines. They have been factory-trained at Ford to do repairs on these types of diesel engines, and they have a great deal of experience in Ford Power Stroke Diesel engine repair. Rest assured that they can handle the needs of your Ford 7.3 liter, 6.0 liter, 6.4 liter, or 6.7 liter Power Stroke engine, from oil and oil filter changes to head gasket repair and spark plug replacements.

If your Ford truck has developed suspension problems of different kinds because of the taxing hauling and towing tasks that it has performed, do not hesitate to bring it to Sound Ford. We at Sound Ford have all the truck suspension parts and accessories that your Ford truck could require. We have air springs, shock absorbers, leveling valves, suspension hangers, shackle hangers, spring pins and much more. We also have aftermarket suspension components like suspension lift kits. Suspension lift kits can significantly increase the ground clearance of your truck and enable you to install larger wheels and tires. Suspension lift kits can also boost your truck's off-road capability.


"Our technicians have worked on the braking systems of different kinds of Ford trucks, so they know the needs and the common problems that may appear in Ford truck brake systems."
Ford Truck Brake Repairs in Renton

You get dependable truck brake repair services when you come to Sound Ford. Our technicians have worked on the braking systems of different kinds of Ford trucks, so they know the needs and the common problems that may appear in Ford truck brake systems. They perform repairs on master cylinders and wheel cylinders, checking for leaks and ensuring that brake fluid is channeled to the brake pads as is required. They also perform brake pad replacement. They inspect the degree of wear on the brake pads first then perform the replacements if necessary. Our technicians also do brake rotor/drum resurfacing. They use the right tools to smoothen and level the surfaces of brake rotors; however, when there is significant brake rotor/drum damage, they perform replacements. Our technicians also perform truck air brake repair. Your truck's air brakes use pressurized air to help stop a truck, and because of this, they take quite a beating when your truck has to haul and/or tow loads over long distances. Your Ford truck's air brakes should be checked often. We at Sound Ford perform air brake replacements using parts from Ford-recommended manufacturers.


Suspension System Repair

Another truck component that requires regular care is your truck's transmission system. Because of towing and hauling heavy loads, the torque demands on your truck's engine and transmission are greater than in cars. Because of this, you should also schedule repair service for your truck regularly. We at Sound Ford perform flawless transmission flushes. We have top-rated, government approved transmission flush machines that do an excellent job of ridding transmissions of old transmission oil. Our technicians are also master truck-transmission rebuilders and restorers. They can take apart your Ford truck's transmission system, repair the different interior components of your truck's transmission that require repair, and then rebuild your transmission.

We at Sound Ford also offer electrical system repair. Your truck's electrical system's rate of deterioration depends on the demands that you put on it e.g. entertainment systems, air conditioning, powered upgrades, trailer lights, etc. If you are heavily using the electric power in your truck, you should also schedule electrical system repair as soon as you can. When doing this service, our technicians inspect and test a truck's starter, alternator, and battery, and perform any necessary replacements. They also check the wiring that connects the different electrical components of your truck and perform the necessary repairs.

There is a lot more that Sound Ford offers in terms of a Ford Truck Repair. If you want to make an inquiry about these services, call us at 425-277-1345. You can also visit us at 101 SW Grady Way, Renton, WA 98057.


© Copyright Content Motive, 2016.
All Rights Reserved. | Written by Content Motive