Ford Transmission Services
Here at Sound Ford we are ready to assist drivers looking for Ford Transmission Services. Transmissions generally fall into four distinct categories: manual, automatic, continuously variable, and semi-automatic, and each of these systems operate in different ways and require different maintenance and inspection. For the best results you need a team of technicians, like our team here at Sound Ford, that is well-versed in different transmission systems and Ford brand vehicles.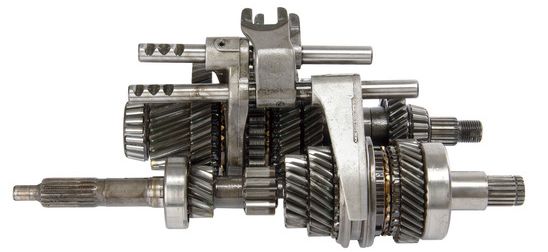 We can take care of all your transmission needs with our Ford Transmission Services.
Basics of the Transmission

In general the transmission in a vehicle translates the relatively limited range of the engine into the wide range of speeds we expect from a modern vehicle. A vehicle without a transmission could operate with only one gear ratio, which would mean hampered acceleration and a host of other problems. One could liken a transmission-less car to a fixed gear bicycle that does not allow the cyclist to choose different gears for different speeds and different levels of effort. Fortunately, modern vehicles are equipped with a transmission, but of course these very important automotive components also require regular maintenance to properly function.


"The automatic transmission is perhaps the most common on the road today, as they provide convenience and smooth performance."
Automatic Ford Transmission Issues

The automatic transmission is perhaps the most common on the road today, as they provide convenience and smooth performance. In the automatic transmission there is no clutch pedal and no gear shifter, like the shifter you find in a manual. Instead you will find a torque converter, clutch packs, and planetary gear sets. In order to properly service these complex components, you should seek help from professionals who understand the complex inner-workings of an automatic transmission. Here at Sound Ford we will give your automatic transmission a thorough inspection and offer a detailed diagnosis of any problems. Often problems in an automatic transmission are linked to insufficient or old transmission fluid. Automatic transmission fluid, along with a filter, disperses heat, lubricates moving parts, and helps keep the system clean. The recommended interval for changing transmission fluid will vary depending on the year and model of your vehicle. If you are uncertain whether your Ford needs new transmission fluid, give our team a call and we can provide the answers.


Also known as a stick-shift, the manual transmission is another popular system found in modern vehicles. Generally drivers choose manual transmissions if they want more control of the driving experience. Unlike an automatic transmission, the manual transmission requires the driver to manually change gear ratios inside the gear box, which the driver accomplishes using the clutch pedal and the gear shifter. As briefly described above, a gear ratio is essentially a ratio of input speed to output speed, and by changing these ratios the driver is able to translate the work of the engine into a wide range of performance speeds. Similar to an automatic transmission, the manual transmission requires fluid and lubrication, and improper fluid levels and dirty filters will inevitably result in costly damage. Driving a vehicle with a continuously variable transmission (CVT) is similar to driving one with an automatic transmission, but in reality the two systems are very different. Whereas the traditional automatic transmission uses a series of gear sets and clutch packs, the CVT uses a computer and a series of pulleys that provide a continuous spectrum of variability between high and low gear ratios—thus the name of continuously variable—as opposed to the discrete ratios achieved in the automatic. Finally, some vehicles may also feature a semi-automatic transmission, which allows the driver to choose between the convenience of an automatic transmission and the greater control of a manual transmission.


Reliable Transmission Services in Renton

Getting regular transmission service is important for a number of reasons. Ford transmissions vary in complexity, and in order to properly diagnose transmission problems you need a technician with experience. Here at Sound Ford we have such a team of experienced technicians, and we pride ourselves on delivering superior quality service that improves the efficiency of your vehicle and keeps you on the road. To schedule an appointment, simply navigate to the service tab on our website and enter some basic information into our online form. Soon after you click submit, a member of our team will be in touch to confirm the details of your appointment.

Get in touch with our team today if you would like more information about our Ford Transmission Services. We welcome you to visit our automotive center at 101 SW Grady Way Renton, WA 98057, or you can give us a call at 425-277-1345. Here at Sound Ford we have served clients from many different parts of Washington, including Bellevue, Newcastle, Issaquah, and beyond. We look forward to serving you.


© Copyright Content Motive, 2016.
All Rights Reserved. | Dealer content by Content Motive