Ford Engine Services
We at the Sound Ford service center are happy to take a brief moment to let you know about our available Ford Engine Services near Seattle. Regardless of the model, your Ford was designed to be efficient and powerful for years to come, and our knowledge and expertise can help your car, truck or SUV running as good as new. There is no shortage of establishments to maintain and repair your Ford engine, but we stand out thanks to our outstanding staff and top-notch equipment.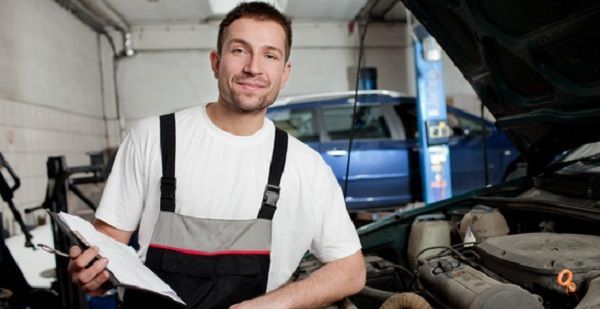 We know Ford, but we especially know engines.
Ford Engine and Oil

A simple oil change can significantly increase the life of your car, and when you choose us you will find that we take the time to inspect a good many of your engine's major components. Fluid levels, belts, hoses and the like are inspected, as are your engine's key filters. We only replace items as needed, and our prices are friendly. If oil changes are neglected, your engine could see a decrease in performance over time. What's more, it could lead to costly repairs that could have been easily prevented.

We make it easy for you to maintain your vehicle thanks to our fast and accurate service, and we are well-versed in Ford's exact specifications, regardless of the model year. If anything needs replacing, you can rest easy knowing that our onsite parts department has everything you would need. We carry only the best genuine Ford parts, and we will never try to upsell you on something that you don't need with these particular Ford Engine Services near Seattle.


"If your vehicle isn't performing as well as it used to, and perhaps you're noticing some slippage in the gears, we invite you to stop by."
Ford Engine Services Easily

Your transmission is one of the more vital elements to your drivetrain, and repairs can get expensive if basic maintenance is overlooked. However, our staff can inspect and service your transmission from top to bottom to ensure quality performance. If your vehicle isn't performing as well as it used to, and perhaps you're noticing some slippage in the gears, we invite you to stop by. Many times it's a simple matter of flushing the entire system. When performing this service, we also take a look at the filter to ensure that your clean fluid doesn't go to waste due to a contaminant-ridden gatekeeper to your transmission. We take the time to do the job right, and even if the repairs are warranted, we have you in good hands. We are always honest and forthcoming with our time and money estimates, and we do everything we can to get your transmission running as smoothly as the day you bought the vehicle. Ford Engine Services near Seattle don't have to be complicated, and when you choose us you will see that we eliminate the red tape and hassle that sometimes comes with auto maintenance and repair.


Offering Ford Engine Services in Renton

Mileage maintenance checkups are part of our repertoire, and no matter how old your vehicle is, we are qualified to help ensure that you get all of the service that you need. Our technicians can work on both current and discontinued models, so whether you have a Transit Connect van or a Fairmont, you need not worry. We are always thorough, and we check every major component. We use a sophisticated, factory-issued checklist regardless of your mileage interval, and we are willing to look at any other parts that may not seem to be working properly. We make the effort to listen to your needs here at the Sound Ford service center. Tune-ups are another major facet of our wheelhouse, and most include the removal of the spark plugs and spark plug wires. A compression test is performed as needed. Next up is the inspection of the distributor cap for signs of wear. An inspection of the rotor follows, and we then check the fuel filter, the air filter, the PCV valve and breather filter, and other parts such as belts, hoses, fluids, etc. Lastly, we adjust ignition timing, the idle mixture, and the O2 sensor.

This s just a sample of all that we offer with Ford engine service, and we warmly welcome you to contact us either by phone (425-277-1345) or in person at our Renton, WA establishment. We are proud to serve the greater metro area, and our hours are convenient. We are here six days a week (closed Sunday), and we look forward to helping you keep your Ford engine running smooth.


© Copyright Content Motive, 2016.
All Rights Reserved. | Dealer content by Content Motive