Ford Brake Services
If you hear strange noises when you apply the brakes in your vehicle, it may be time for Ford Brake Services with Renton Ford Service. Sounds, vibrations, and other signs are an indication that your brakes should be checked, and well-maintained brakes are essential to your automotive safety. Keep reading to learn more about brake maintenance at Renton Ford Service.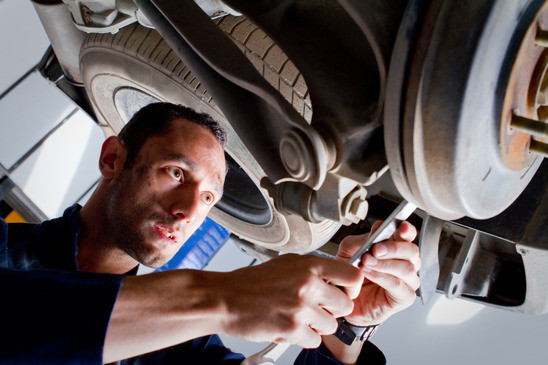 We know Ford Brake Services.
Ford Brake Knowledge

We all know that brakes slow down and stop a vehicle, but most drivers know relatively little about the inner workings of modern automotive braking systems. Put very simply, to stop your forward-moving car you need to disperse this forward-moving energy, and brake systems do this by turning the energy into heat from friction. When you press your brake pedal, this force is transferred to the brake fluid, and thanks to hydraulics the pressure exerted on the fluid will eventually travel to clamps called calipers.

Brake pads are attached to the calipers and when the calipers squeeze together, the brake pads create friction against the rotor, which eventually stops your vehicle. This is a very cursory explanation of a complicated system, and of course many variations apply, but the main lesson to be learned here is this: Brake systems are composed of many different parts, and consequently this system needs attention and regular maintenance from professionals. Some of us take our brakes for granted. We worry about other parts of our vehicles, such as the engine, the tires, and convenience systems like climate control and the stereo system, but brakes are often forgotten. Here at Renton Ford Service we want to remind drivers that brakes are fundamental to the proper functioning of your vehicle, and you should be vigilant for problems and diligent about seeking help. The most obvious sign of brake trouble is a light on the dashboard, and when you see this indicator light you should get in touch with our service department immediately, but there are other signs drivers should know about.
"Most brake systems rely on friction between the brake pads and the rotor."
Prioritizing Ford Brake Services in Renton

Most brake systems rely on friction between the brake pads and the rotor. Over time the brake pads will naturally wear away, and with some vehicles you can actually perform a visual inspection of these pads to determine if you need work done. Look in between the spokes of your wheel to find the rotor and the caliper. Located between the caliper and the rotor surface is the brake pad. The minimum thickness of your pads should be about one-quarter of an inch. If your pads are thinner than one-quarter inch, or if you see any other signs of damage, get in touch with our team at Renton Ford Service.
Ford Brake Inspection

Strange sounds are another indication that you may need brake servicing. If you have brake problems, applying the brakes may cause a high-pitched squeal or a gravelly, grinding sound. The high-pitched noise comes from the wear indicator on your brake pad, and the harsher sound means the brake pads have completely worn through and the metal calipers are touching directly against the metal rotor. In other words, every once in a while turn down the radio and listen for these sounds that may indicate problems with your brakes.

If you apply the brakes and it feels like someone briefly pulled your car to the left or right, this could mean you have sticking calipers, a collapsed brake hose, or uneven brake pads. Basically the brake system may be applying uneven pressure due to these abnormalities, and you need to get some maintenance. Vibrations are another sign that your brakes are due for a check up. If you feel a vibration in your brake pedal, this might mean you have warped rotors. Finally if the pedal feels different, you may have a problem with your brake fluid pressure due to a leak.

Give us a call if you need Ford Brake Services. We rely on our brakes to keeps us safe, and that means we need to keep our brakes in good working condition. Give us a call at 888-849-5186, or drop by for a visit at 101 SW Grady Way, Renton, WA 98057. You can also visit our website to schedule an appointment online. Here at Renton Ford Service our service technicians are experienced and professional. Contact us today for service you can trust.


© Copyright Content Motive, 2016.
All Rights Reserved. | Dealer content by Content Motive