Ford Air Conditioning Services
There are tons of different parts and components in your vehicle so it is important to make sure that each one stays in great condition. From the main running parts like the radiator and transmission to the air conditioning, every part is important in its own way. If you are noticing some issues with your AC, we at Sound Ford offer Ford Air Conditioning Services that can help get your AC in prime working condition again. There are many ways to notice if your AC is having problems so look for them to know if you need to bring your vehicle in.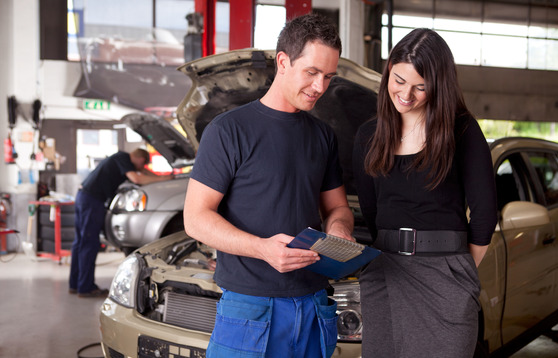 Ask about warning signs for our Ford Air Conditioning Services.
Ford Air Conditioning Technicians

No matter what reason brings you to our shop, from servicing your vehicle to a repair, we want to make sure you have everything you need. We have a quiet waiting room with Wi-Fi and a staff that will help you out with whatever you need. When our technicians are troubleshooting issues with your AC, they will not being any work on your vehicle until you give the go ahead. They can let you know what is wrong and what needs to be done and if it needs to be done now rather than later. Our staff of talented technicians are highly trained with Ford vehicles as well as all other makes and models so you can feel at ease. We also have equipment that is very useful for any situation including diagnostics and repairing your AC.

There are many different signs and symptoms you can look for to know if something may be wrong with your AC or not. Some issues are more serious than others as well. For example, if you are getting an overpowering smell coming from your AC unit, this could mean the Unit is new or has old and dirty filters or evaporator case. It all depends on the smell as a nasty smell coming can mean dirt or mold and a burning smell could mean that the system is working too hard. This is the most obvious sign besides noticing that your AC unit is not blowing cold air at all or goes from cold to warm. There are a lot of different scenarios as to why this happens however including damaging leaks. These are issues that need to be fixed.


"There are other signs you can look for as well but some involve a lot more detection prowess."
Ford Air Conditioning Signs

There are other signs you can look for as well but some involve a lot more detection prowess. For example, in order to detect leaks from your AC, you can use black light as most refrigerants are pre-mixed with special UV dyes allowing them to be seen under a black light. If it is a worse leak, there also can be a potent smell coming from under the hood as well. What causes AC leaks is age and moisture as rubber hoses can lose their elasticity over time. That is why it is always important to bring in your vehicle for AC service when it is needed. This way, you are ready for the summer.


Included with Ford Air Conditioning Services in Renton

There are a lot of different parts and components that make up the air conditioner making you surprised by just how many there are and how important each part is. That is why when you bring in your vehicle for service, we spend a little time at first diagnosing the issue(s) that may be affecting your air conditioning. Some of these parts that you can find include an expansion tube, O-rings, blower motors, evaporator, condenser, switches, fuses, and more. These are just some of the parts that make up the air conditioner and, unfortunately, each one can cause trouble. They can get old, fail, get clogged, damaged, be dirty or moldy, and more. We at Sound Ford have most, if not all, of the parts waiting for you making it easy for us to get the job done sooner rather than later.

When summer hits, AC is needed and wanted so make sure your AC is in great condition. Our Ford Air Conditioning Services can help fix any issues as well as keep it in great condition. If you have any questions or would like to schedule an appointment, you can contact us at 888-809-5272, or via our website. We proudly serve the Renton area as well as Seattle, Bellevue, and more.


© Copyright Content Motive, 2016.
All Rights Reserved. | Content marketing by Content Motive