Ford 90,000 Mile Maintenance
Nothing lasts forever, and this is especially true when it comes to automotive parts. Even the best engineering and design needs regular attention from professionally trained technicians, and without these very important trips to a trusted service department you will inevitably shorten the lifespan of your vehicle and perhaps experience costly damage down the road. To help you avoid such problems, our team here at Sound Ford offers Ford 90,000 Mile Maintenance.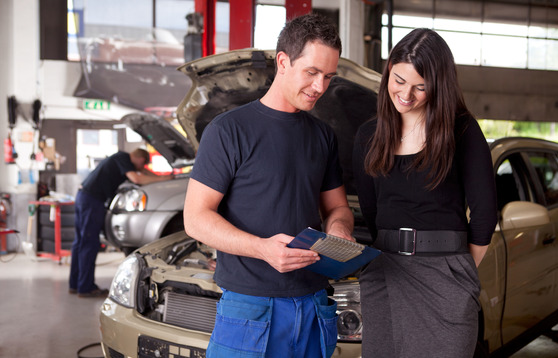 Come see us today to schedule your Ford 90,000 Mile Maintenance.
Importance of Ford Mile Maintenance

In your owner's manual your will likely find a suggested maintenance schedule measured in intervals of both distance and time. These intervals will vary depending on the model and age of your vehicle, but all Ford vehicles need these regular checkups with factory-trained technicians, and one of the most important maintenance appointments comes around 90,000 miles. From the comfort of the vehicle cabin, many drivers tend to forget all the work that happens under the hood, and they may think scheduled maintenance appointments are really unnecessary, but when you take a moment to consider the extreme temperatures and pressure changes that result from the operation of an internal combustion engine, you will realize that scheduled maintenance is more than just a suggestion. Our 90,000 mile maintenance is an opportunity to assess the current state of your vehicle and see what needs to be replaced or adjusted.

Now you may be wondering what goes into 90,000 mile maintenance when you stop in and it all depends on your vehicle. First, we will likely give your Ford a thorough inspection to get an overall sense of what needs to be serviced. Then our team will get started on the services your particular vehicle needs at 90,000 miles, which will probably include an oil change, battery inspection, tire rotation, and much more. The services we perform at 90,000 miles will likely improve both the performance and safety of your vehicle. Let's start with the importance of engine oil. Fresh oil, the lifeblood of an engine, lubricates moving parts, disperses heat generated from friction, and helps clean your engine of foreign particulate. Over time, however, this fresh oil breaks down, accumulates dirt and grime, and eventually stops working as a lubricant, and when this happens you need an oil change.


"The services we perform at 90,000 miles will likely improve both the performance and safety of your vehicle."
Detailed Inspection at 90,000 Miles

Tire rotation is another service you may need at 90,000 miles. Whether you know it or not, your tires are wearing unevenly, and this affects both the lifespan of your tires and the fuel efficiency of your vehicle. To help counteract this uneven wear, our team will rotate your tires, and at the same time we can inspect your tires for cracks, punctures and other problems. We can also check your braking system, which includes the brake pads and brake fluid. The list of potential service items may also include filter changes, battery replacement, and timing belt inspection, but you can rest assured that we will only perform the services your vehicle actually needs.
Expert Ford Technicians for Ford Maintenance in Renton


Here at Sound Ford our clients have access to a friendly and dedicated team of factory-trained technicians, and that means you get expert care from professionals who know and love Ford models. To schedule an appointment, please take a few minutes to fill out an appointment request on our website via the Schedule Service tab. Within 48 hours of receiving your request, a member of our team will contact you about your service appointment. If you have an automotive emergency, we recommend calling our service department to speak with a member of our team. Our service is also highly affordable. Many drivers avoid scheduled maintenance because they worry about the potential cost of repairs, but here at Sound Ford we only perform the services that are necessary, and our pricing is honest. If you delay your scheduled maintenance, you will likely end up paying more money down the road for those unfixed problems.

For more information about our Ford 90,000 Mile Maintenance, please give us a call at 425-277-1345, or you can visit our service center at 101 SW Grady Way in Renton, WA. We have served clients from a variety of parts of Washington, and now we would like to use our resources and expertise to serve you.


© Copyright Content Motive, 2016.
All Rights Reserved. | Quality dealer content by Content Motive