Ford 30,000 Mile Maintenance
Here at Sound Ford, we are excited to offer outstanding Ford 30,000 Mile Maintenance in Bellevue, and we would like to take a quick moment to let you know about all that we have to offer with this service. Your vehicle was designed to provide exceptional performance, and once you hit the 30K mark, you will find that we feature some of the best mechanics in the area.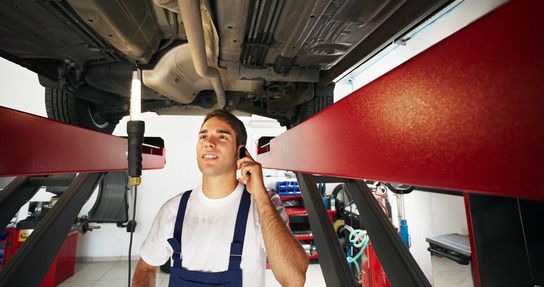 Schedule your Ford 30,000 Mile Maintenance today.
Our Ford 30,000 Mile Maintenance Techs

Even if you aren't sure where you stand on your maintenance checklist, we can help. Granted, 30K miles is what it is, but some models vary depending on the year and how you drive your vehicle. Regardless of your situation, we can help, as we specialize in Ford vehicles, even the discontinued models. Our technicians are trained in everything from the basics to more advanced services. We have equipment as well to help them diagnose any possible problem as we check it all.

Also, we provide exceptional customer service at our establishment. It's understandable that you want to know every detail when getting your Ford serviced, and to that end we make every effort to keep you in the loop throughout the process when you choose us for Ford maintenance. We value relationships with our customers, and as such we work hard to earn your repeat business. Our top concern is your utmost satisfaction, and we are ethical with our dealings. If you need a replacement, we will tell you. If something can wait but may need attention, we keep you informed as well. You're more than just a number at our friendly establishment; you're treated like a member of the family.


"Every component of your engine is examined, and we make the effort to do the job right the first time."
Basics of a 30,000 Mile Service

We start by changing the oil and oil filter, and we also take the time to check all of your major fluid levels. This includes the coolant as well, and we don't stop there. Every component of your engine is examined, and we make the effort to do the job right the first time. While there is a set checklist that we adhere to, we examine everything under the hood. Tune-ups aren't on the order for a good while, but anything amiss is looked at, and we consult with you about anything that may need to be done. We also check the wiper blades and hoses when you choose us for Ford maintenance, and all of your motor mounts are looked at as well. If you happen to need a replacement part, we have you covered thanks to our top-notch parts department that is onsite.


More Detailed 30,000 Mile Maintenance in Renton


We also take a look at any other parts as per you request. For instance, your brake system is a vital part of your vehicle with regards to performance and safety, and no stone is left unturned when we take a look. Bleeding, rotor turning and pad replacement is all within the realm of our expertise. Transmission service, A/C work and the like are also included with our 30,000 mile service if need be. We listen to your needs and concerns, and we always work with you to get your vehicle running as well as the day you bought it.

30K miles may not seem like a lot, but it is essential that you get your vehicle checked out to ensure that it is working properly. We have all of your needs covered here at our Renton, WA dealership, We stand out thanks to the fact that we specialize in Ford products, and we are in regular communication with the factory with all of the most recent service bulletins. If you would like to know more about all that we have to offer when it comes to Ford 30,000 Mile Maintenance, we welcome you to contact us here either by phone 425-277-1345 or in person. We are located at 101 SW Grady Way in Renton, WA, and we are pleased to serve repeat customers from the greater metro areas of Kent, Grandview, Snohomish, Snoqualmie and Fife. Our service department is here every day of the week except Sunday, and our hours are accommodating. We can't wait for the opportunity to serve you and earn your business.


© Copyright Content Motive, 2016.
All Rights Reserved. | Written by Content Motive