Ford 120,000 Mile Maintenance
If you are looking for Ford 120,000 Mile Maintenance, our team here at Sound Ford is ready to offer assistance. With a fully-equipped facility and a dedicated team of automotive professionals, we have the resources you need to get the proper care for your Ford, and we want to emphasize that scheduled maintenance is crucial to ensuring the longevity of your vehicle.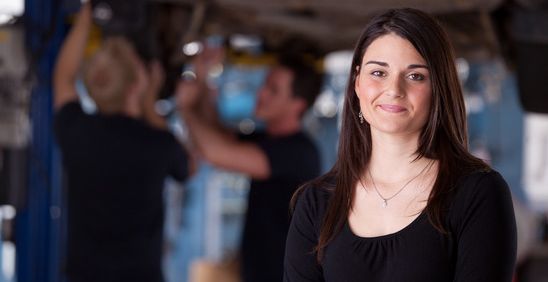 Your satisfaction is our goal with every Ford 120,000 Mile Maintenance.
Ford 120,000 Mile Maintenance Importance

Many drivers today only visit their local service center when something goes wrong, but otherwise they simply believe their vehicle is in good shape, as long as they occasionally change the oil and top off the fluids. Nothing could be further from the truth. The environment under the hood of your Ford is one of extreme temperatures and pressure changes, and the road is unforgiving. With every mile you drive, your vehicle changes, parts shift around, and eventually after thousands of miles, components begin to deteriorate. Such change is inevitable, which is why your owner's manual probably lists a recommended maintenance schedule.

The time and distance intervals may vary depending on your model, but in general you will need to visit a trusted service center at intervals of 30,000 miles, or after a certain number of years has passed. Working with our team, you can fix the damage done, and in fact scheduled maintenance, such as our 120,000 mile maintenance, can help prevent serious problems down the road, which saves you time and money.


"We perform a thorough inspection of your vehicle and compile a list of any problems we encounter, and then we can get to work."
Ford 120,000 Mile and Later

After 120,000 miles on the road, your Ford will need a variety of different services, and the exact list of needs will depend on your particular vehicle and its maintenance history, so our first step when you visit us for 120,000 mile maintenance is a detailed inspection. We perform a thorough inspection of your vehicle and compile a list of any problems we encounter, and then we can get to work. There are tons of different possible services for your vehicle as it depends on your vehicle. However, there are a few services that most vehicles generally require at 120,000 miles, such as an oil change, filter replacements, timing belt inspection, and more.


Scheduled maintenance can improve the performance and fuel efficiency of your Ford, while also preventing expensive repairs in the future. When you visit us here at Sound Ford for a scheduled service appointment, we can identify all the parts that need replacement or adjustment, and one of those parts might be the timing belt. Indispensable to the operation of your vehicle, the timing belt basically keeps the pistons from colliding with the valves inside your engine. As you can imagine, a broken timing belt can cause extensive damage to your vehicle, which is why you need to get a replacement before that happens. At 120,000 miles we may also inspect your braking system. Modern automobile use hydraulics to brake, and a leak in the system can compromise your safety and the safety of your passengers. In addition to checking the pressure and brake fluid level, we can also inspect your brake pads. To improve the efficiency of your vehicle, we may also rotate your tires and perform an oil change.
Benefits of Ford 120,000 Mile Maintenance in Renton

Here at Sound Ford we know you have many options when choosing a service center, but none of our competitors offers the same level of service and expertise. Our service department employs factory-trained technicians with a detailed and nuanced understanding of Ford models, and consequently we are an ideal choice for clients who need Ford scheduled maintenance. If you would like to make an appointment, navigate to the Schedule Service tab on our website and fill out a request form. Within 48 hours of your request, a member of our team will be in touch with confirmation and details about your appointment, if your requested time is available. We have served clients from all over Washington, and now we would like to use our expertise and resources to serve you. We want to remind our clients that a Ford is a big investment, and as a responsible driver you want to protect that investment with the right automotive care from professionally trained technicians.

To learn more about Ford 120,000 Mile Maintenance please give us a call at 425-277-1345 or visit our service center at 101 SW Grady Way in Renton, WA. Here at Sound Ford we prioritize customer satisfaction and we work hard to earn the trust of our clients. Contact us today and schedule an appointment.


© Copyright Content Motive, 2016.
All Rights Reserved. | Written by Content Motive